I bought this hoya in September 2011 from Thailand. We had ordered from them before and were really pleased with what we got so we decided to place a new order almost directly after the first delivery had arrived. I didn't plan on ordering Hoya acicularis, but it seemed like one of the few challenges I had left so I ordered one... I also liked the name!
A hoya friend had bought this before, but her plant lost leaves and in the end it went to the hoya heaven, so it felt a little unsure after I had potted my plant. The rooted plant was very generous and the vines were long. I chose to wrap it on a support (about 50 cm high) and the result was really nice. The plant started loosing leaves and parts of the vines started drying up so I didn't have any high expectations, but I kept it there under the grow lights in my hoya room in the basement. I cut of the dead parts as they appeared... until one day at the end of November 2011 when I noticed several new leaves and in mid December it has started to grow several new vines so there was hope after all! At least then...
I should have cut the plant down and started over with new cuttings, but I waited too long so in the end all I could save was a small cutting. It's now April 2014 and it has rooted and started growing, but it'll take forever to become as nice as it used to be. Buying rooted plants are a risk and this time it didn't make it. We'll see if that little cutting can grow into something... some day.
To view any of the pictures on this page bigger, click on them and they will open up in new windows.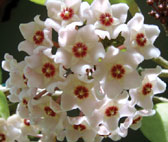 Read about how it all started
Why did I start collecting hoyas?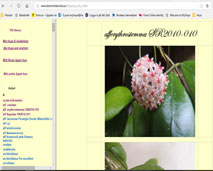 Private hoya links
Check out some of my favourite private hoya links from all over the world

Public hoya links
Here you will find public sites from all over the world, places to buy hoyas from etc.

Hoya forums
Here you will find links to different hoya forums on the internet.

Other great links
Here you will find links to search sites, garden sites, fun sites, crazy sites, and other "useful" sites.