I bought this hoya as an unrooted cutting in July 1999 and it grew like crazy at first. It was sold to me as Hoya acuta 'Red'. I figured it would have red flowers... It didn't flower much, but enough to keep me satisfied. Mine flowered for the first time in September 2001 and the umbels were rather small and grew straight out, which simplified photographing with my old regular camera!

I almost lost this hoya in the spring of 2003. The window I had it in got spider mites - the terrible red ones! I managed to save some healthy cuttings and from the summer of 2003 it grew like crazy and in August 2004 it flowered like never before. I counted 9 open umbels at the same time! The spicy fragrance was not too strong... Unfortunately the flowers only lasted about 3 days before they fell off. This time the flowers were not red as before, some were pink, some paler and some were even striped!

The leaves on my plant are light green with visible veins and sometimes a lot of flecks. They are 6-12 cm long and 2.5-4 cm wide.

To get back to Hoya acuta, click here:

To view any of the pictures on this page bigger, click on them and they will open up in new windows.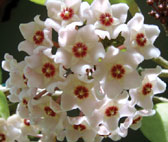 Read about how it all started
Why did I start collecting hoyas?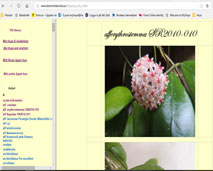 Private hoya links
Check out some of my favourite private hoya links from all over the world

Public hoya links
Here you will find public sites from all over the world, places to buy hoyas from etc.

Hoya forums
Here you will find links to different hoya forums on the internet.

Other great links
Here you will find links to search sites, garden sites, fun sites, crazy sites, and other "useful" sites.