When my aff. albiflora went to the hoya heaven in 2008 I wanted to get a new one right away, but then I moved to an apartment and there was just no room for a new. So it had to wait until I moved to a new house in november 2009, but getting a new albiflora wasn't the first thing I did after moving in... it had to wait until July 2011 and then the cutting came with both IML number and also USDA 354235.

My cutting came with mealy bugs, but I was aware of this and didn't pay very much because of that. I've fought these monsters and it seems like I've won the battle, so now I'm waiting for it to grow and bloom... because I really want to see those big white flowers more than just on photos!

In the spring of 2013 I discovered a peduncle in my plant, but so far no buds and it's now middle of October. Not sure what this hoya needs to bloom, but some day... some day I hope to see these flowers in real life.

To get back to Hoya albiflora, click here:

To view any of the pictures on this page bigger, click on them and they will open up in new windows.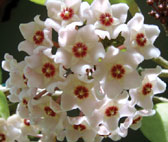 Read about how it all started
Why did I start collecting hoyas?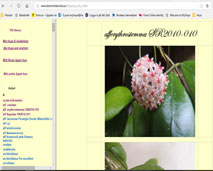 Private hoya links
Check out some of my favourite private hoya links from all over the world

Public hoya links
Here you will find public sites from all over the world, places to buy hoyas from etc.

Hoya forums
Here you will find links to different hoya forums on the internet.

Other great links
Here you will find links to search sites, garden sites, fun sites, crazy sites, and other "useful" sites.