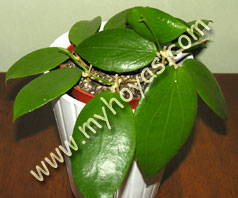 This hoya comes from Malaysia and it was described in 1890.
It's a climbing hoya with rather big leaves, about 8-12 cm long and 4-6 cm wide. The leaves have visible veins and they are rather shiny. The leaves are hard and quite thick and don't seem to have any flecks.
The flowers are said to have light pink corolla and the corona is a bit darker pink. I've only seen the flowers in a photo (so far!) and they look rather flat, about 1-1.5 cm in diameter in size. I've found no information about how long the flowers last or if they are fragrant or not... Some day perhaps one of my own plants will flower! But then they need to really start growing first...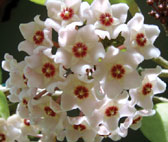 Read about how it all started
Why did I start collecting hoyas?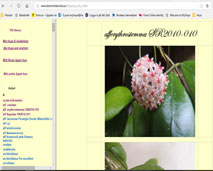 Private hoya links
Check out some of my favourite private hoya links from all over the world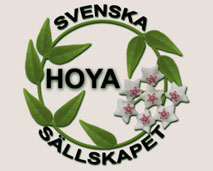 Public hoya links
Here you will find public sites from all over the world, places to buy hoyas from etc.

Hoya forums
Here you will find links to different hoya forums on the internet.

Other great links
Here you will find links to search sites, garden sites, fun sites, crazy sites, and other "useful" sites.