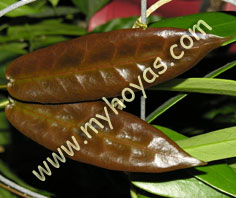 Both Hoya archboldiana Hoya onychoides come from Papua New Guinea. This cross was hybridized by Ed Gilding.
It's a climbing hoya with leaves about 8-12 cm long and 3-4 cm wide. The leaves have a prominent vein along the middle and no silver flecks. New leaves have a dark brownish red colour, just like Hoya archboldiana.
The flowers, which I have only seen on photo once are gorgeous! I don't remember any details about them, but I guess I can fill that in once my plant decides to flower... IF it ever will! The fragrance of both its parents is like gardenia, so you would asume that it would be the same for their "offspring".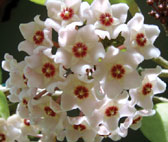 Read about how it all started
Why did I start collecting hoyas?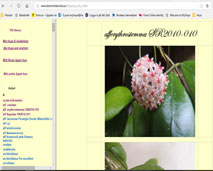 Private hoya links
Check out some of my favourite private hoya links from all over the world

Public hoya links
Here you will find public sites from all over the world, places to buy hoyas from etc.

Hoya forums
Here you will find links to different hoya forums on the internet.

Other great links
Here you will find links to search sites, garden sites, fun sites, crazy sites, and other "useful" sites.