I bought a cutting of this one in April 2005. It was for a friend, but when I came home she had changed her mind and I wasn't unwilling to keep it myself even though I told myself I had no room for it. It was only a little cutting! For a long time it was nothing more than a large cutting and developped a few new leaves and in the end it moved to my brother. It has started growing, but all the new leaves are really small... Bonsai-hoya?!!

By accident (addiction?) I found a really big plant of 'Lisa' just a couple of days ago and I just had to buy it. So now I don't have to wait for the cutting to grow big. There was even a peduncle in the new big plant but I had a small accident and it's no longer there. Stupid, I know! SInce then it has grown new peduncles and flowered a few times. I got to see the flowers for the first time in September 2007 and since then it has bloomed a couple of times... Unfortunately most of my big plant was lost during the winter and all I managed to save was a couple of small cuttings that I'm trying to keep alive.

To get back to australis, click here:

To view any of the pictures on this page bigger, click on them and they will open up in new windows. Sorry about all the pictures of the leaves, but I think this hoya has such beautiful foliage that I had to show all the variations.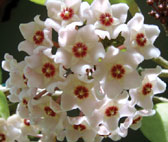 Read about how it all started
Why did I start collecting hoyas?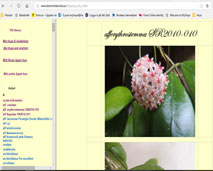 Private hoya links
Check out some of my favourite private hoya links from all over the world

Public hoya links
Here you will find public sites from all over the world, places to buy hoyas from etc.

Hoya forums
Here you will find links to different hoya forums on the internet.

Other great links
Here you will find links to search sites, garden sites, fun sites, crazy sites, and other "useful" sites.