This is a hoya that I first saw a photo of on Facebook and I just had to write the owner (in Poland) about it and we ended up doing a trade in July 2011. I received three smaller cuttings and the leaves were even nicer IRL. One cutting had very small leaves and when I first saw it I thought it would be so nice if the leaves stayed that small, but as it rooted and started growing the leaves got bigger and bigger.

About the same time as I received this hoya from Poland a bunch of us hoyafreaks ordered hoyas from Thailand, which arrived in September 2011. They also had this hoya so I thought I'd buy one from them too and pot together with my other cuttings. I have to say that the hoya from Poland is much nicer than the one from Thailand, because the Thai one only gets very little white on the edges. I'll wait to pot them together until the spring. They are both under grow lights in my hoya room in the basement and will be fine until spring, which is only a few months away...

I would guess the flowers will be the same as for the rest of the Hoya australis, but it would be nice to see them some day...

To get back to australis, click here:

To view any of the pictures on this page bigger, click on them and they will open up in new windows.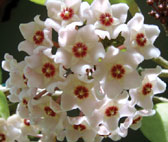 Read about how it all started
Why did I start collecting hoyas?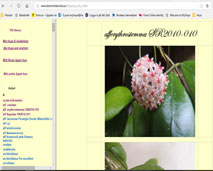 Private hoya links
Check out some of my favourite private hoya links from all over the world

Public hoya links
Here you will find public sites from all over the world, places to buy hoyas from etc.

Hoya forums
Here you will find links to different hoya forums on the internet.

Other great links
Here you will find links to search sites, garden sites, fun sites, crazy sites, and other "useful" sites.