This is a hoya that I received as a surprise from a friend who had learned that I had started liking the big leafed hoyas and it was a very nice surprise! The cutting I received was "only" two big nodes but I cut it up into two cuttings and potted them together. This was in May 2006 year and at first it grew really fast and after a little more than one year it had filled up its support. New leaves start out quite pointy but they get rounder as they mature.

In the beginning I had my plant in a shady spot right next to a window. The leaves got quite big and nice and it was then it grew so well. Right now I have my plant in a sunny western window where the leaves have gotten a lot lighter green and also smaller, but this is where it actually bloomed for the first time in April 2011, almost five years after I got it...

The lady I got this hoya from said she had found it growing wild near a beach in a place called Kapoho in Hawaii. It might be a seedling that "went bush".

The flowers were actually a little different from the regular australis. They were not as rolled together at the egdes and pointed more forward. They also had more red under the corona and the fragrance was much more pleasant and more like vanilla.

To get back to australis, click here:

To view any of the pictures on this page bigger, click on them and they will open up in new windows.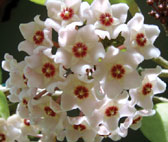 Read about how it all started
Why did I start collecting hoyas?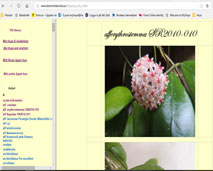 Private hoya links
Check out some of my favourite private hoya links from all over the world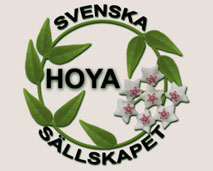 Public hoya links
Here you will find public sites from all over the world, places to buy hoyas from etc.

Hoya forums
Here you will find links to different hoya forums on the internet.

Other great links
Here you will find links to search sites, garden sites, fun sites, crazy sites, and other "useful" sites.