I think this was my first fuzzy hoya and I bought it in July 2000 at a Hoya exhibition. It was already a nice plant when I bought it, but it almost doubled in size in just one year. That's also when it flowered for the first time and only with one umbel... Since then it has only flowered with one umbel each time and mostly in the fall. Not a frequent bloomer!

I guess my cat didn't like this hoya since he pushed it down on the floor a couple of years ago and I managed to save some really long cuttings, which I planted as they were despite all advise not to to have the cuttings too long! They all rooted and it's once again a nice big plant with quite a few peduncles. All I have to do now is wait for the flowers... There were buds in the fall of 2004, but... Some day I will get the chance to take some new photos of the flowers!

In the end I got tired of waiting for this hoya to bloom, so I cut it up and sold it... One quite large cutting moved to my brother and I noticed it had buds a while ago when I was there, but the buds fell off... I guess there is hope for this hoya! Who knows, I might even take a cutting myself when I get more hoya space AND want this hoya again!

To get back to australis, click here:

To view any of the pictures on this page bigger, click on them and they will open up in new windows.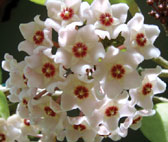 Read about how it all started
Why did I start collecting hoyas?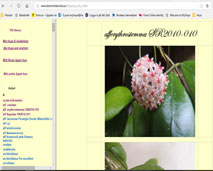 Private hoya links
Check out some of my favourite private hoya links from all over the world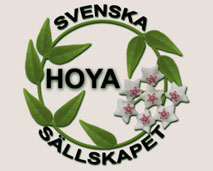 Public hoya links
Here you will find public sites from all over the world, places to buy hoyas from etc.

Hoya forums
Here you will find links to different hoya forums on the internet.

Other great links
Here you will find links to search sites, garden sites, fun sites, crazy sites, and other "useful" sites.