I bought this hoya as an already big plant in July 1999. It grew fast and developed quite a few peduncles and in August 2000 it flowered for the first time and the fragrance from all these flowers was too much in my then small apartment. It had to be out on the balcony during evenings and nights when it flowered. This is by far one of the easiest hoyas to grow and to get flowers on.

Over the years I've divided this plant and I had three big plants. One in a sunny window in the east and this one got a little yellow from the sun. Another plant was in a west facing window and it also got yellowish leaves, bot both flowered like crazy. The third plant was also placed in the west, but didn't get direct sunlight, and this plant got really dark green and didn't flower as much as the other two. I also noticed that my "green" plant flowered also during the spring...

As time passed I got less space for all my new hoyas that moved in and in the end some of my australis plants had to move... BUT, lately I have regretted my descission and I've gotten a new cutting that has started growing really well.

To get back to australis, click here:

To view any of the pictures on this page bigger, click on them and they will open up in new windows.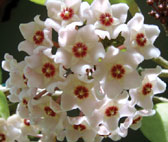 Read about how it all started
Why did I start collecting hoyas?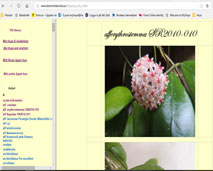 Private hoya links
Check out some of my favourite private hoya links from all over the world

Public hoya links
Here you will find public sites from all over the world, places to buy hoyas from etc.

Hoya forums
Here you will find links to different hoya forums on the internet.

Other great links
Here you will find links to search sites, garden sites, fun sites, crazy sites, and other "useful" sites.