This is a hoya that I actually shouldn't have bought, but when I was ordering several hoyas from Thailand I noticed this in their list and they just called it australis (variegata). I suspected it would be the same as 'Lisa', but curiosity took over and I bought it. When it arrived in September 2011 it was in a rather poor state, but I managed to save a fairly large piece and put it in my hoya room in the basement and it stood there for quite some time until I noticed it had started growing. It was then that I realized the leaves were pubescent and it wasn't the same as 'Lisa'. Now all it has to do is grow bigger and bloom. Probably ordinary white australis flowers, but it's always nice with blooming hoyas!

To get back to australis, click here:

To view any of the pictures on this page bigger, click on them and they will open up in new windows.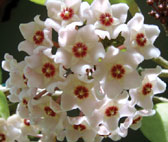 Read about how it all started
Why did I start collecting hoyas?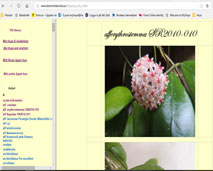 Private hoya links
Check out some of my favourite private hoya links from all over the world

Public hoya links
Here you will find public sites from all over the world, places to buy hoyas from etc.

Hoya forums
Here you will find links to different hoya forums on the internet.

Other great links
Here you will find links to search sites, garden sites, fun sites, crazy sites, and other "useful" sites.