I bought this hoya in July 2011. I fell for the incredibly beautiful leaves so when I saw an offer for unrooted cuttings I just had to have it. After it rooted I cut it again to fill out the pot and now almost two years later it's become a really nice plant.

The leaves on this variety is really gorgeous! The variegation (does this word even exist?) varies a lot. Sometimes the leaves are "just" light in the middle with green edges and sometimes they vary in white, green, pink and sometimes even red. It bloomed for the first time in November 2012 and after that it has bloomed over and over again... Flowers are the same as the regular green variety, but the foliage makes this hoya a lot nicer!

To get back to Hoya sp. aff. burtoniae, click here:

To view any of the pictures on this page bigger, click on them and they will open up in new windows.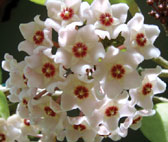 Read about how it all started
Why did I start collecting Hoyas?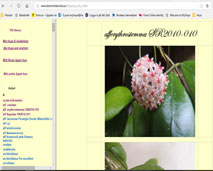 Private Hoya links
Check out some of my favourite private Hoya links from all over the world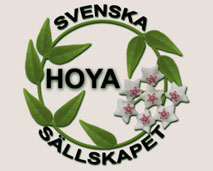 Public Hoya links
Here you will find public sites from all over the world, places to buy hoyas from etc.

Hoya forums
Here you will find links to different Hoya forums on the internet.

Other great links
Here you will find links to search sites, garden sites, fun sites, crazy sites, and other "useful" sites.