This is a hoya that makes "third time lucky" true. I got my first cutting in September 2006 and it didn't take long before it was dead. Then I gave this hoya another chance in April 2007 because I thought the first one died because it was rather late in the year and that a cutting in the spring would have a better chance at making it... but, it didn't. Then it wasn't until May 2011 that I gave it a third and final chance and it turned out to be a wise decision. It rooted fast and started growing well. It's not a fast growing hoya here, but it doesn't matter since I have it in a small window on a small support.

The window it is in is in our basement and it gets very little sun, but plenty of light and apparantly that was enough. In November 2013 I noticed the first buds and shortly after I got to see the beautiful flowers. Since then it has bloomed several times.

To get back to till Hoya blashernaezii, click here:

To view any of the pictures on this page bigger, click on them and they will open up in new windows.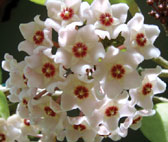 Read about how it all started
Why did I start collecting hoyas?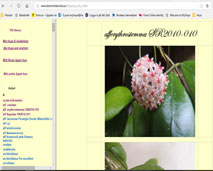 Private hoya links
Check out some of my favourite private hoya links from all over the world

Public hoya links
Here you will find public sites from all over the world, places to buy hoyas from etc.

Hoya forums
Here you will find links to different hoya forums on the internet.

Other great links
Here you will find links to search sites, garden sites, fun sites, crazy sites, and other "useful" sites.