I bought this one as a rooted cutting at a hoya exhibition in January 2003. At first I found it rather boring and it looked better in pictures than in real life... Well, it just stood there, grew a little, but showed no signs of the supposedly dark red flowers. Even though it's a slow grower my plant has gotten rather big and I guess it's because I've cut off pieces and stuck them back in with the rest of the plant. The odds for new growth increases... In April 2004 I notised the first peduncle and shortly after another one and another one... The buds seem to fall off at an early stage, and the last peduncle also fell off in the end...
Shortly after the last peduncle fell off my plant started growing, and it grew fast! It seemed that it was necessary for the peduncle to fall off to get new growth... During August 2006 it has grew more than 1 meter (3 feet) and it also got a new peduncle. It had buds at one point but these fell of when they were still tiny! I ended up selling this plant when I sold the first house and had to move to an apartment. Now that I have more room in our new house I might get a new one - we'll see!
To view any of the pictures on this page bigger, click on them and they will open up in new windows.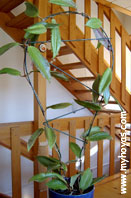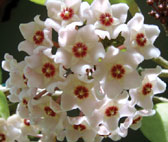 Read about how it all started
Why did I start collecting hoyas?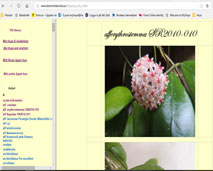 Private hoya links
Check out some of my favourite private hoya links from all over the world

Public hoya links
Here you will find public sites from all over the world, places to buy hoyas from etc.

Hoya forums
Here you will find links to different hoya forums on the internet.

Other great links
Here you will find links to search sites, garden sites, fun sites, crazy sites, and other "useful" sites.