I got this hoya from Hawaii in the middle of April 2005. It was a nice size cutting or rather a little plant. It arrived in a package together with 9 of her buddies...

I didn't want to cut the five nodes up so I planted the whole cutting alone. After about one month I noticed tiny buds on the peduncle right above the soil. They soon developed into cute very fragrant flowers that opened at the beginning of June 2005. I had been told it was an easy bloomer, but the lady didn't say THAT easy! Sure it was a fast bloomer, but it hasn't bloomed very often through the years.

It's now almost eight years since I got it and it's grown quite big and very compact after I cut it in two pieces a few years ago. It seems like a slow grower and my plant grows a little one year and the next it doesn't grow at all... A very beautiful hoya!

To view any of the pictures on this page bigger, click on them and they will open up in new windows.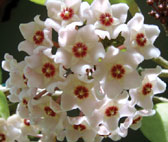 Read about how it all started
Why did I start collecting hoyas?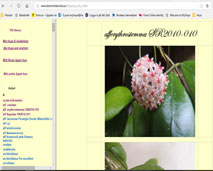 Private hoya links
Check out some of my favourite private hoya links from all over the world

Public hoya links
Here you will find public sites from all over the world, places to buy hoyas from etc.

Hoya forums
Here you will find links to different hoya forums on the internet.

Other great links
Here you will find links to search sites, garden sites, fun sites, crazy sites, and other "useful" sites.