This is a hoya I bought in July 2011. It was an unrooted cutting and it was called cystiantha at the time... but the story about the names is on the page with the facts.
It rooted fast and started growing, not a fast grower here though. It could be since I have it a window with almost no sun. It bloomed for the first time in August 2012 and since then it has bloomed a few more times. As I write I have 4 buds in it. Not much, but enough to measure the size when it blooms. That way I might know which hoya it is that I have.
To view any of the pictures on this page bigger, click on them and they will open up in new windows.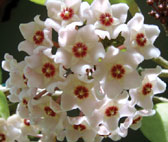 Read about how it all started
Why did I start collecting hoyas?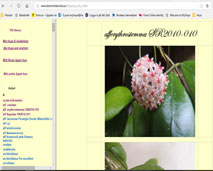 Private hoya links
Check out some of my favourite private hoya links from all over the world

Public hoya links
Here you will find public sites from all over the world, places to buy hoyas from etc.

Hoya forums
Here you will find links to different hoya forums on the internet.

Other great links
Here you will find links to search sites, garden sites, fun sites, crazy sites, and other "useful" sites.