This little hoya was bought from Botanova in northern Sweden in May 2002. It was the best-behaving little hoya you could ask for - in the beginning! It flowered already in July 2002, but then it was just downhill from there... The leaves fell off and the peduncles fell off, but it kept on growing a little. The summer of 2003 I decided to cut it up into pieces and rooted some of the bigger ones. That seemed to do the trick. It grew a nice thick foliage and lots of new (and old) peduncles... Quite a few summer in a row it flowered several times with A LOT of flowers at the same time! After such many flowers it seems this hoya is close to dying... At least it was for me and normally I would save some cuttings and start over, but I never did so I lost the plant a few years ago. It feels like I've had enough of this hoya!
The flowers are among the more difficult ones to photograph, but I did my best...
To view any of the pictures on this page bigger, click on them and they will open up in new windows.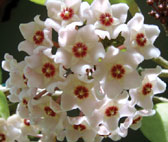 Read about how it all started
Why did I start collecting hoyas?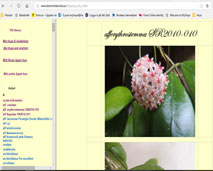 Private hoya links
Check out some of my favourite private hoya links from all over the world

Public hoya links
Here you will find public sites from all over the world, places to buy hoyas from etc.

Hoya forums
Here you will find links to different hoya forums on the internet.

Other great links
Here you will find links to search sites, garden sites, fun sites, crazy sites, and other "useful" sites.