The leaves of this hoya are almost completely covered in silver spots and they are absolutely beautiful, but that's the only positive thing I can say about this hoya. It is such a slow grower... I got my cutting in April 2012 and since then it has grown 4 or 5 new leaves and lost a few old ones. The size of the leaves so far is about 5-7 long and 3-4 cm wide. Most of the leaves are covered in silver, but some of them have green spots - so to speak.

The flowers (which I've not even seen on photo) will be a nice surprise when they eventually show up. With this grow rate I think I might see the flowers about when I retire in like 20 years...

To get back to Hoya carnosa, click here:

To view any of the pictures on this page bigger, click on them and they will open up in new windows.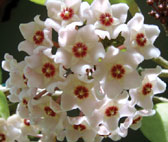 Read about how it all started
Why did I start collecting hoyas?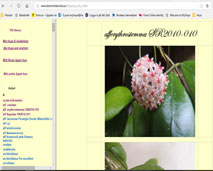 Private hoya links
Check out some of my favourite private hoya links from all over the world

Public hoya links
Here you will find public sites from all over the world, places to buy hoyas from etc.

Hoya forums
Here you will find links to different hoya forums on the internet.

Other great links
Here you will find links to search sites, garden sites, fun sites, crazy sites, and other "useful" sites.