The leaves on this hoya looks a lot like the regular carnosa, but since I've had an all-green Hoya carnosa 'Rubra' (H. 'Green Exotica') I'd say that the leaves (above all the new ones) looks more like those, but time will tell what will become of this hoya... The leaves are about 6-10 cm long, 2-3 cm wide and have only a few flecks. Even less flecks than the regular carnosa... It bloomed for the first time in April 2011 and the flowers looked a lot like my 'Rubra'. Since then it has bloomed quite a few times and sometimes the flowers are more pink than purple. They don't seem to produce nectar like the regular carnosa and the fragrance is like sweet chocolate... not very strong, but you can't miss it.

There is a sort of funny story behind the name of this hoya... When a very hoya-knowledgeable person here in Sweden started growing hoyas she put numbers after each hoya and that's how this hoya got the "exiting" additon of 'H020'. It was hoya carnosa number 20 in her collection! So I would guess it's probably "just" a regular carnosa with darker flowers - from what I've seen sofar...

I got this hoya as an unrooted cutting in September 2008 and I wanted it because the flowers very lovely pink, almost a bit purple just like my 'Rubra' had now and then. My cutting has grown well and I grow it hanging at the moment, but if I get more hoya space I will probably change it to grow up on a support. I think this hoya can get quite big!

To get back to Hoya carnosa, click here:

To view any of the pictures on this page bigger, click on them and they will open up in new windows.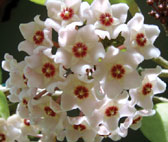 Read about how it all started
Why did I start collecting hoyas?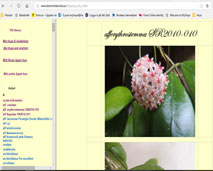 Private hoya links
Check out some of my favourite private hoya links from all over the world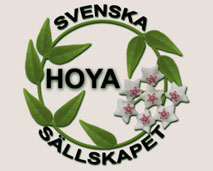 Public hoya links
Here you will find public sites from all over the world, places to buy hoyas from etc.

Hoya forums
Here you will find links to different hoya forums on the internet.

Other great links
Here you will find links to search sites, garden sites, fun sites, crazy sites, and other "useful" sites.