The leaves of this hoya have white edges and you'd think it should be called 'albomarginata', but that's not the case... don't know why really. The leaves are about 6-10 cm long and 3-4 cm wide and new leaves get a little pink where they later turn white. Lovely foliage!

The flowers (which I've only seen at my brothers so far) are a little more pink that the regular carnosa, but other than that I haven't been able to see any difference. The fragrance wasn't as strong either, but with many umpels open at the same time it would probably smell some.

Twice I've taken cuttings from my brothers plant, but the first time it just didn't want to root so now in May 2009 I cut off a new cutting and this time it has rooted and started growing a little. Variegated hoyas have a tendency not to grow fast - at least not in my care... So I'm guessing it'll be a while before it has grown big, but if I don't feel like waiting I can always get in the car and visit my brother again and perhaps cut off another cutting and fill out the pot!

The photos below comes from my brother, but I have plans to take new photos of his plant the next time I'm there... the leaf photo is from my own cutting!

To get back to Hoya carnosa, click here:

To view any of the pictures on this page bigger, click on them and they will open up in new windows.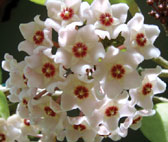 Read about how it all started
Why did I start collecting hoyas?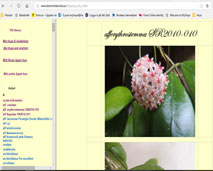 Private hoya links
Check out some of my favourite private hoya links from all over the world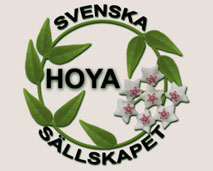 Public hoya links
Here you will find public sites from all over the world, places to buy hoyas from etc.

Hoya forums
Here you will find links to different hoya forums on the internet.

Other great links
Here you will find links to search sites, garden sites, fun sites, crazy sites, and other "useful" sites.