This is the hoya that got me interested in hoyas. When my mother died more than 15 years ago, I got all her plants in my then new apartment where I had almost no plants. It was nice memories of my mother having her plants around, but they kept dying one by one... except the carnosa and a few other plants. These plants are still with me, and some have gotten really big and some I had to renew a couple of times so they look good.

Shortly after I got the carnosa it started blooming and after a while I bought a book about flowers. I found out that it was called Hoya carnosa and wondered if there might be others out there. I couldn't find any in our local flower shops, but shortly after I started looking we got internet at work and I did my first internet search ever. I typed the word hoya on a search site and a new world opened up... There were so many of them and I HAD TO HAVE THEM ALL! Well, that was many hoyas ago and if you're interested in reading how I got them all, click here: >>

My plant grew bigger and bigger and I took a cutting from it so that I would have two plants... Today my carnosa is not only bigger, but I have two almost same size plants, of which one partially has moved to my brother... The other one is now hanging together with my Hoya motoskei where they get some sun, but not much and they have both gotten really green. Carnosa blooms now and then and motoskei blooms like crazy! This Hoya will always remind me of my mother, especially when it's blooming.

To get back to Hoya carnosa, click here:

To view any of the pictures on this page bigger, click on them and they will open up in new windows.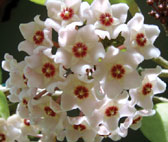 Read about how it all started
Why did I start collecting hoyas?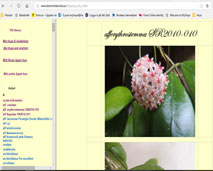 Private hoya links
Check out some of my favourite private hoya links from all over the world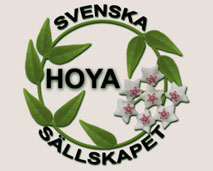 Public hoya links
Here you will find public sites from all over the world, places to buy hoyas from etc.

Hoya forums
Here you will find links to different hoya forums on the internet.

Other great links
Here you will find links to search sites, garden sites, fun sites, crazy sites, and other "useful" sites.