I bought this hoya as an unrooted cutting in July 1999. It was then called sp. PNG 4 and I had read it should have red flowers. So it was just to wait... My plant didn't grow very fast, the leaves fell off now and then and I had to renew the plant several times before it finally seemed "happy". It had developed a very long peduncle and quite big buds when we moved into our house in August 2001. After a couple of weeks it bloomed, but the flowers were definitely NOT red - they were pale yellow! I assumed I didn't have any sp. PNG 4... I started asking questions, but nobody seemed to know what it was. Not even the person I had bought it from!
I've had to renew this hoya one more time and it was in the spring 2004, but after that it has grown surprisingly well! Around mid August 2005 I noticed a long peduncle with small buds growing against the window and finally it felt like I would find out what this hoya was! The flowers opened late at night, but the morning after I got the chance to take lots of photos of it and when I checked and compared with other photos on the Internet I realized it was chuniana that I had... Though I still wondered why it had PNG 4 on the note when I bought it...? It turned out that the person I bought it from had made a mistake and written a 4 instead of a 6! Mystery solved, but it took 6 years... My plant flowered a couple of times 2009 and also during 2010. The fragrance is absolutely wonderful!
To view any of the pictures on this page bigger, click on them and they will open up in new windows.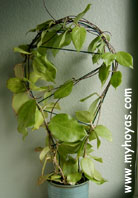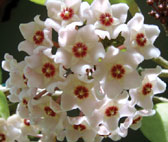 Read about how it all started
Why did I start collecting hoyas?

Private hoya links
Check out some of my favourite private hoya links from all over the world

Public hoya links
Here you will find public sites from all over the world, places to buy hoyas from etc.

Hoya forums
Here you will find links to different hoya forums on the internet.

Other great links
Here you will find links to search sites, garden sites, fun sites, crazy sites, and other "useful" sites.