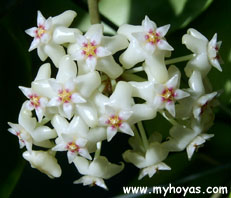 This hoya comes from Malaysia and it was described in 1922.
It's a hoya that seems to get big. Best suitable for grown on a support because of the large leaves. The medium green leaves are 10-15 cm long, 8-10 cm wide and have visible veins and some flecks. The leaves actually remind me of Hoya glabra.
I've read that this hoya has pale yellow citrus fragrant flowers. I have also read that the flowers are white... The reflexed flowers are 1-1.5 cm and you'll find 20-30 flowers in each umbel. My plant had white flowers with very pale yellow corolla lobes. The corona is white with red and yellow in the center. The fragrance was quite strong and quite "fresh" and really nice. The flowers lasted about 4 days.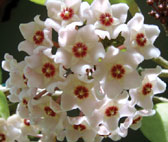 Read about how it all started
Why did I start collecting hoyas?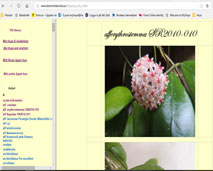 Private hoya links
Check out some of my favourite private hoya links from all over the world

Public hoya links
Here you will find public sites from all over the world, places to buy hoyas from etc.

Hoya forums
Here you will find links to different hoya forums on the internet.

Other great links
Here you will find links to search sites, garden sites, fun sites, crazy sites, and other "useful" sites.