I bought this hoya as a rooted cutting in May 2000 from Botanova in northern Sweden. It has always been a nice fast growing hoya, but I found it to be a bit boring... until May 2003 when I found the first flowers fully opened and almost completely hitten in the thick foliage.
The flowers are absolutely gorgeous! Since I found the first flowers this hoya has developed quite a few new peduncles and new flowers develop on the same peduncle before the old ones fall off!
I cut down my big plant and sold most of it before I moved to my apartment in 2008. I only kept one small cutting for myself and it has grown quite well and I've cut off pieces a couple of times and stuck into the pot. Now (April 2011) it's starting to look like a nice hanging plant.
To view any of the pictures on this page bigger, click on them and they will open up in new windows.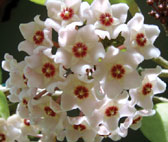 Read about how it all started
Why did I start collecting hoyas?

Private hoya links
Check out some of my favourite private hoya links from all over the world

Public hoya links
Here you will find public sites from all over the world, places to buy hoyas from etc.

Hoya forums
Here you will find links to different hoya forums on the internet.

Other great links
Here you will find links to search sites, garden sites, fun sites, crazy sites, and other "useful" sites.