I got this hoya as a rooted cutting in a trade in July 2003. The lady I traded with told me she hadn't had much luck with it, but I still wanted it. I think the leaves are among the prettier with the net of veins... It grew quite fast in the beginning, and then it stopped completely. I repotted it and it started growing again.
All of a sudden in December 2004 the leaves started to get mushy, but they were still green! I tried to save a cutting, but I guess it was too late... The plant was dead before Christmas 2004. I'm thought for a long time that I would get a new one, but it wasn't until Juli 2011 that I bought a new cutting. It rooted nicely and even started growing a little so I was exited enough to get one more cutting in June 2012. Both my new plants bloomed in August and September 2013, but it took quite a few dropped buds before they both managed to keep the buds and bloom... since these flowers I have sold my smaller plant and kept the bigger one which grows buds now and then, but so far always dropps them when they are quite big... but, the plant grows well and the leaves on their own is a joy to look at.
In August 2006 I received an e-mail from a guy in Singapore. He thought I should have a photo of the flowers of Hoya elliptica on my website and so he sent me one. The photo has been replaced by my own photo. The guy who sent the photo also gave me a description of the fragrance: The chinese here make steamed rice buns and cakes and it has this yeasty slightly sourish sweet fragrance. And the elliptica flowers' fragrance seems similar to that.
To view any of the pictures on this page bigger, click on them and they will open up in new windows.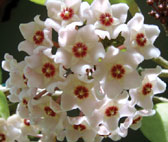 Read about how it all started
Why did I start collecting hoyas?

Private hoya links
Check out some of my favourite private hoya links from all over the world

Public hoya links
Here you will find public sites from all over the world, places to buy hoyas from etc.

Hoya forums
Here you will find links to different hoya forums on the internet.

Other great links
Here you will find links to search sites, garden sites, fun sites, crazy sites, and other "useful" sites.