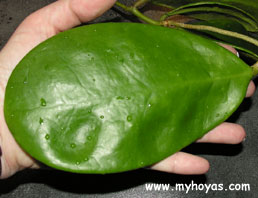 This hoya comes originally from Borneo and it was described in 1863. Hoya excavata belongs to the same section as Hoya kerrii, Hoya obovata and Hoya meliflua. According to some experts this hoya (and some others) so similar to Hoya diversifolia that they really shouldn't be separate species.
This is a hoya that reminds very much of Hoya diversifolia, both in terms of growth and flowers. It's a climbing hoya whos stem should be wrapped as soon as possible or you'll risk breaking it. You should also give this hoya a large support from the beginning or you'll have problems later on...
The thick leaves are quite dark green, oval (almost a little egg shaped) and they are 10-20 cm long and 6-10 cm wide. The leaves don't have very clear veins and have no flecks.
I've read that there are two clones of this hoya in circulation. One has more redish corolla and the other more pinkish corolla. The corona is said to be yellow on both, but on photos I've seen they are more red or pink which I suppose could be due to light intensity... The flowers are flat at first, but the older they get the corolla edges seem to curl back a little. Each flower is 1.5-2 cm and you'll find 10-25 flowers in an umbel. The flowers last up to two weeks, produce quite a lot of nectar that doesn't seem to drip and the fragrance is said to be strong and like vanilla.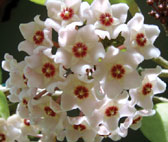 Read about how it all started
Why did I start collecting hoyas?

Private hoya links
Check out some of my favourite private hoya links from all over the world

Public hoya links
Here you will find public sites from all over the world, places to buy hoyas from etc.

Hoya forums
Here you will find links to different hoya forums on the internet.

Other great links
Here you will find links to search sites, garden sites, fun sites, crazy sites, and other "useful" sites.