I got this Eriostemma as an unrooted cutting in a trade in May 2003. Back then it belonged to Hoya, but some years ago it was moved to Eriostemma.

It grew fast since it rooted and the light green leaves got a little yellow when grown in full sun. I had my plant in a west window and it got plenty of sunshine, so I hoped some day I'd see the flowers. To increase the odds for flowers I gave a plant to my brother who put it in a southfacing window... His plant is now really big, but so far no peduncles.

I sold my own plant several years ago, but when I went to visit my brother in August 2010 I cut off a large cutting (tried to get the plant, but no!) and it has now grown rather big and it will hopefully bloom! In May 2012 I discovered a small peduncle that grew into the room and the tip of that vine was chewed off by a certain cat... Oh well, the plant had shown that it could perhaps bloom and in the middle of October 2012 I found a new peduncle with small buds and this time the vine grew towards the window so it would hopefully be left alone by the "chewy monster". On January 8th 2013 the three (out of ten) buds that lasted all the way opened up and these flowers are really something!

I also have to mention that this is definately an Eriostemma to grow if you want to see fast "results"! Below you'll find photos of my old plant every year 2003, 2004, 2005 and the last photo is from 2006.

To see photos of the development of the buds, click here:

To view any of the pictures on this page bigger, click on them and they will open up in new windows.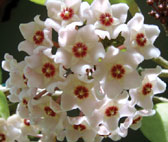 Read about how it all started
Why did I start collecting hoyas?

Private hoya links
Check out some of my favourite private hoya links from all over the world

Public hoya links
Here you will find public sites from all over the world, places to buy hoyas from etc.

Hoya forums
Here you will find links to different hoya forums on the internet.

Other great links
Here you will find links to search sites, garden sites, fun sites, crazy sites, and other "useful" sites.