I got this hoya in a trade I made in June 2012. I had seen the flowers at a hoya gathering a hoya friend had and it was obvious that I needed this hoya in my collection. It rooted fast under the grow lights and it didn't take long before the first very thin peduncle showed up, but it fell of just as fast...
At the end of October 2012 I noticed another peduncle and this time it made it all the way and by the end of November I got to see the flowers. They were even more pretty than the ones I had seen on the hoya gathering! They had opened during the night and I saw them in the morning when I turned on the lights in my hoya room and I thought I would take photos when I got home from work in the evening... but by then the flowers had already started closing back up again - or at least, that was what I thought! Turned the lights off in the hoya room later that night, turned them back on in the morning and the flowers were open again so I took some quick photos that morning before going to work. In the evening the flowers were closed again. Strange hoya, but it seems typical for this hoya.
To view any of the pictures on this page bigger, click on them and they will open up in new windows.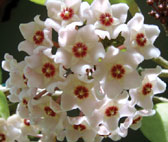 Read about how it all started
Why did I start collecting hoyas?

Private hoya links
Check out some of my favourite private hoya links from all over the world

Public hoya links
Here you will find public sites from all over the world, places to buy hoyas from etc.

Hoya forums
Here you will find links to different hoya forums on the internet.

Other great links
Here you will find links to search sites, garden sites, fun sites, crazy sites, and other "useful" sites.