I bought this hoya as a rooted cutting in May 2002 from Botanova in northern Sweden. When I saw a picture of the leaves of this hoya I just had to have it. And luckily the leaves are gorgeous, because I haven't seen any flowers yet.
I find this hoya rather difficult to grow. It can put out a long new vine and I try to wrap it around its trellis, but it seems it doesn't like it when I wrap the vines to grow down... Each time the tips turn yellow and fall off. I let it grow straight up once and it didn't turn yellow, but after a while I had to force it down and I ended up breaking the vine off. Finally I tried to wrap it as early as possible hoping I could fool the plant int thinking that growing down is okay...
I finally decided that Hoya globulosa and I just didn't get along so I sold the plant about two years ago, but kept a cutting of it. The cutting grew well, but then in the end I decided to give it to my brother instead... That way I sort of still have it and a cutting has now moved in with me again, but if it stays remains to be seen...
On Aug 16, 2007 I received an e-mail from a lady here in Sweden. She sent me photos of her Hoya globulosa in bloom and I was allowed to use them on my website. Almost two years later (July 13, 2009) I received a new e-mail from her and sent me new flowers of her blooming Hoya globulosa. One of those new photos can be seen below. Really nice flowers!
To view any of the pictures on this page bigger, click on them and they will open up in new windows.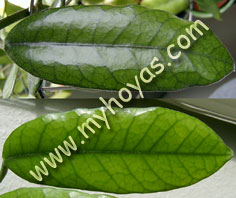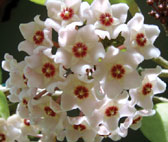 Read about how it all started
Why did I start collecting hoyas?

Private hoya links
Check out some of my favourite private hoya links from all over the world

Public hoya links
Here you will find public sites from all over the world, places to buy hoyas from etc.

Hoya forums
Here you will find links to different hoya forums on the internet.

Other great links
Here you will find links to search sites, garden sites, fun sites, crazy sites, and other "useful" sites.