I bought this hoya as a small plant in October 1999. It has been one of the most boring hoyas I've ever had. It just grows a little, looses a few leaves at the bottom... When it has lost too many leaves at the base I cut it off and reroot the whole thing.
My plant flowered for the first time in September 2001. After that it has only flowered one more time, but that was in 2002 = a long time ago... I was thinking of getting rid of it, but it sort of got rid of itself and died a few years ago... I've bought (August 2009) two new cuttings and they are growing so slow!
To view any of the pictures on this page bigger, click on them and they will open up in new windows.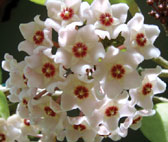 Read about how it all started
Why did I start collecting hoyas?

Private hoya links
Check out some of my favourite private hoya links from all over the world

Public hoya links
Here you will find public sites from all over the world, places to buy hoyas from etc.

Hoya forums
Here you will find links to different hoya forums on the internet.

Other great links
Here you will find links to search sites, garden sites, fun sites, crazy sites, and other "useful" sites.