I got this hoya from Hawaii at the end of May 2006 and then it was "only" called hellwigiana. After som questions and answers I found out that it really should be called aff. hellwigiana IML 1101. Today (May 11th 2007) I have once agian received information that it should be called hellwigiana without the aff. The cutting was quite large and I could cut it up into two cuttings (se photo below) and it also had a peduncle on which it grew buds before it rooted and wouldn't that have been the best hoya joy if it had bloomed already as a cutting! Unfortunately the buds fell off and a few days later also the peduncle... My plant has grown quite well and in April 2007 i found a new peduncle and tiny buds... I didn't have any real expectations, but the buds grew bigger and rounder each day and got a lovely red colour from the sun. I got to see the flowers on May 9th and I was able to see when they opened. Always exciting with a first time bloomer!

To get back to Hoya hellwigiana, click here:

To view any of the pictures on this page bigger, click on them and they will open up in new windows.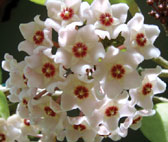 Read about how it all started
Why did I start collecting hoyas?

Private hoya links
Check out some of my favourite private hoya links from all over the world

Public hoya links
Here you will find public sites from all over the world, places to buy hoyas from etc.

Hoya forums
Here you will find links to different hoya forums on the internet.

Other great links
Here you will find links to search sites, garden sites, fun sites, crazy sites, and other "useful" sites.