I got this hoya from Hawaii in September 2004. The cutting had 2 big dark green leaves and a long stem with root bumps. So, I figured it would be easy to root and that it would start growing really fast... How wrong can you be?! It took forever to root (could be the time of year) and it really didn't start growing until spring last year. The leaves on this hoya are gorgeous and you can see the inheritance from vitellina in the dark margins of the leaves.
Some say the cultivar-hoyas are easy bloomers, so I guessed it wouldn't take too long before I got to see the flowers of 'Joy'... and I was sort of right since it's flowered frequently over the years and these flowers are really cute!
Due to lack of space I planted two rather large cuttings of 'Joy' and 'Noelle' together and they don't seem to mind it and they bloom now and then so I'll keep them together in the same pot.
To view any of the pictures on this page bigger, click on them and they will open up in new windows.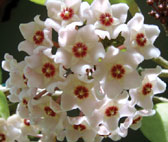 Read about how it all started
Why did I start collecting hoyas?

Private hoya links
Check out some of my favourite private hoya links from all over the world

Public hoya links
Here you will find public sites from all over the world, places to buy hoyas from etc.

Hoya forums
Here you will find links to different hoya forums on the internet.

Other great links
Here you will find links to search sites, garden sites, fun sites, crazy sites, and other "useful" sites.