I bought this hoya as a nice rooted plant from Thailand in September 2011. I had seen photos of the sweet leaves, but I was surprised when I got it because it was even sweeter than on photo. I put mine in a pot with a foot and placed it in an aquarium where the humidity is very high. This hoya doesn't need that, but I wanted to see if it could be grown this way and it sure could! It has grown quite well and much faster than I thought. In this humid environment it gets quite a few aerial roots that stick to the tree root Ihave in the aquarium and I've also seen roots that stick to the glass.
It bloomed for the first time in March 2012 and since then it has bloomed over and over again. A really sweet hoya that I definately will keep in my collection for a very long time.
To view any of the pictures on this page bigger, click on them and they will open up in new windows.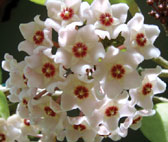 Read about how it all started
Why did I start collecting hoyas?

Private hoya links
Check out some of my favourite private hoya links from all over the world

Public hoya links
Here you will find public sites from all over the world, places to buy hoyas from etc.

Hoya forums
Here you will find links to different hoya forums on the internet.

Other great links
Here you will find links to search sites, garden sites, fun sites, crazy sites, and other "useful" sites.