I got this hoya in a trade I made in May 2006. The person who sent me a cutting had this hoya in bloom and the flowers were so wonderful dark red that I just had to have this hoya. The cutting that came was rooted and started growing soon after it arrived. It turned out to be a bit boring during the winter, but always perked up when the spring came...
It took less than two years before it was a nice fairly large plant and it bloomed for the first time in April 2008. After that it bloomed a few more times before I moved from the house to an apartment and the whole plant moved with me, but after the first summer I cut it down and kept only a cutting for myself. I wanted to keep as many hoyas as I could and a cutting didn't need much space... in the beginning! Perhaps I knew (indirectly) that I would move to a hoya friendly house again and I did in November 2009. The cutting I kept and have recently rerooted have grown quite a lot, but so far no new flowers.
To view any of the pictures on this page bigger, click on them and they will open up in new windows.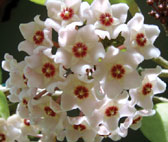 Read about how it all started
Why did I start collecting hoyas?

Private hoya links
Check out some of my favourite private hoya links from all over the world

Public hoya links
Here you will find public sites from all over the world, places to buy hoyas from etc.

Hoya forums
Here you will find links to different hoya forums on the internet.

Other great links
Here you will find links to search sites, garden sites, fun sites, crazy sites, and other "useful" sites.