I bought this one as a fairly large plant in August 2009. I was going to show it at a fair at the end of that month and hopefully someone would buy it because this is one hoya that never really got my interest... Anyway, nobody bought it and I took it home. It fell down in the car so a lot of vines were broken. I hung it up rather dark in my apartment since I didn't have any hanging spot free. I knew I was going to move to a new house in November 2009 and I figured that if the plant survived the dark spot I would keep it. After the move it looked a little "sad" and in the spring of 2010 I cut it up and rooted plenty of new cuttings in a pot. They started growing well and I started to like the plant...
It flowered for the first time in October 2011. It had at least ten umbels open at the same time and the fragrance was nice. After that first multi blooming I really like this hoya and I'm sort of glad that nobody wanted it back in August 2009.
To view any of the pictures on this page bigger, click on them and they will open up in new windows.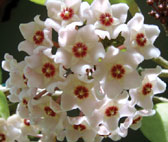 Read about how it all started
Why did I start collecting hoyas?

Private hoya links
Check out some of my favourite private hoya links from all over the world

Public hoya links
Here you will find public sites from all over the world, places to buy hoyas from etc.

Hoya forums
Here you will find links to different hoya forums on the internet.

Other great links
Here you will find links to search sites, garden sites, fun sites, crazy sites, and other "useful" sites.