I bought this hoya as a fairly large plant wrapped on a support. It was some time in May 2005. I didn't have more room for standing hoyas so I cut it up and made a hanging plant of it. I hung it in a sunny western window and it thrived there. It grew fast and quite often I had to wrap long vines up over the pot. It bloomed for the first time in July 2005 and after that it seemed to always bloom. Quite often it had several umbels open at the same time.
This hoya didn't move with me from the house to my apartment in 2008. It got a new home somewhere in Sweden. I have missed this hoya so in April 2011 I bought two cuttings from that dark growing plant. I haven't quite decided yet if I should keep it growing a little darker and not bloom or give it more light... time and window space will decide!
To view any of the pictures on this page bigger, click on them and they will open up in new windows.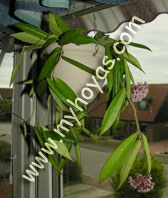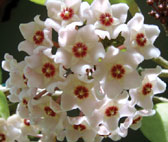 Read about how it all started
Why did I start collecting hoyas?

Private hoya links
Check out some of my favourite private hoya links from all over the world

Public hoya links
Here you will find public sites from all over the world, places to buy hoyas from etc.

Hoya forums
Here you will find links to different hoya forums on the internet.

Other great links
Here you will find links to search sites, garden sites, fun sites, crazy sites, and other "useful" sites.