I got this hoya in October 2011 at a hoya gathering here in our house. It rooted fast under the grow lights in my Hoya room and it didn't take long until the first peduncle showed up... but, as with other mac:s the buds fell off when they were small. Until one day at the beginning of February 2013 when I discovered buds that were already about 1 cm and these gave me hope so I watered as evenly as I could and one day in the mddle of February the first bud opened and four days later all the flowers were open. Six big underful fragrant really dark red flowers that lasted about 1.5 weeks in the warmth in the Hoya room. If it had been cooler I would have guessed the flowers had lasted longer...
The leaves on this plant are X-X cm long and X-X cm wide.
To view any of the pictures on this page bigger, click on them and they will open up in new windows.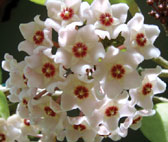 Read about how it all started
Why did I start collecting hoyas?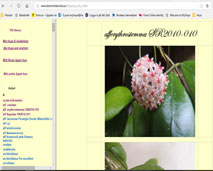 Private hoya links
Check out some of my favourite private hoya links from all over the world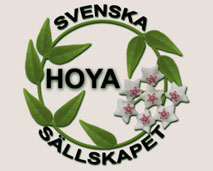 Public hoya links
Here you will find public sites from all over the world, places to buy hoyas from etc.

Hoya forums
Here you will find links to different hoya forums on the internet.

Other great links
Here you will find links to search sites, garden sites, fun sites, crazy sites, and other "useful" sites.