I bought this hoya in September 2006. There were no photos of leaves or flowers in the sellers list, but it sounded like it would be cute so I bought it. Pretty expensive too... When the cutting arrived I was sort of disappointed. It looked a lot like Hoya anulata and eitapensis too, but it turned out to be prettier than anulata, both foliage and flowers. The flowers are a lot like anulata, but darker in the middle and the flowers along with the beautiful foliage makes this plant really nice.
After the little cutting rooted I've cut it several times to get a fuller / bigger plant sooner and today it's a rather nice hanging plant. The stiff vines make it look sprawling, but if you have room for it... My plant hangs without protection in a window with plenty of sunshine and the whole plant is gorgeous! Since it bloomed for the first time in July 2011 it has bloomed over and over again and it's sure making up for all the flowerless years!
To view any of the pictures on this page bigger, click on them and they will open up in new windows.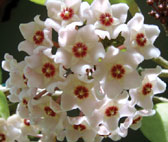 Read about how it all started
Why did I start collecting hoyas?

Private hoya links
Check out some of my favourite private hoya links from all over the world

Public hoya links
Here you will find public sites from all over the world, places to buy hoyas from etc.

Hoya forums
Here you will find links to different hoya forums on the internet.

Other great links
Here you will find links to search sites, garden sites, fun sites, crazy sites, and other "useful" sites.