I bought this hoya in May 2007 as an unrooted cutting from Holland. It rooted quite fast and started growing well for a while, but then I moved from a big house to a smaller apartment and this hoya had to be placed rather dark and seemed to stop growing because of that... In November 2009 we bought a nice house with lots of hoya friendly windows and in the spring 2010 I cut this plant down and rooted a nice cutting and it rewarded me with new growth almast immediately. I like having two cuttings in each pot so in the spring 2011 I cut off a piece and stuck it in the pot when I repotted this hoya.
It grew a new vine at the cut end and in June 2011 I got to see the flowers for the first time and they are really cute! Smells heavenly too! After those first flowers it has bloomed several times this summer... The cutting I cut off and stuck in the pot hasn't started growing yet, but it was quite red when I cut it off and red cuttings take longer to root.
To view any of the pictures on this page bigger, click on them and they will open up in new windows.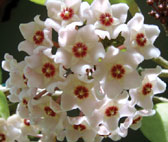 Read about how it all started
Why did I start collecting hoyas?

Private hoya links
Check out some of my favourite private hoya links from all over the world

Public hoya links
Here you will find public sites from all over the world, places to buy hoyas from etc.

Hoya forums
Here you will find links to different hoya forums on the internet.

Other great links
Here you will find links to search sites, garden sites, fun sites, crazy sites, and other "useful" sites.