I traded this hoya on a Hoya gathering here at home in October 2011. It was a cute small cutting and I was really pleased since I had recently seen the flowers on photo. This is definately not a hoya that grows fast - at least not here, but I guess that doesn't matter when it makes up for it by blooming often instead?!
I noticed a small peduncle at the beginning of March 2012, but didn't really want to get my hopes up too high… the peduncle grew and grew and grew and measured almost 15 cm when the flowers opened on April 30th 2012. Since then it has bloomed several times and now (March 2013) it even has two peduncles. My thai plant will hopefully bloom soon since it has several peduncles and also buds in one of them as I write this (mid October 2013).
In June 2012 I ordered a cutting from Thailand. It was a generous cutting and I cut it in smaller pieces and potted together, but these haven't grown much either and there are no signs of peduncles. The Thai cutting came with the number EPC-229 (which is probably the same as the one I already had) and it is said to have narrower leaves than one with number EPC-293.
To view any of the pictures on this page bigger, click on them and they will open up in new windows.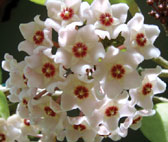 Read about how it all started
Why did I start collecting hoyas?

Private hoya links
Check out some of my favourite private hoya links from all over the world

Public hoya links
Here you will find public sites from all over the world, places to buy hoyas from etc.

Hoya forums
Here you will find links to different hoya forums on the internet.

Other great links
Here you will find links to search sites, garden sites, fun sites, crazy sites, and other "useful" sites.