I got this hoya from Hawaii in April 2005. I found almost 1 meter of it in the box. Unfortunately some leaves had been broken off during the trip, but I cut it up and planted one cutting for myself and sold the rest. My cutting had grown some so I cut it in half when I repotted it in February 2006. Since then it has grown into quite a nice big plant!
Some say the cultivar-hoyas are easy bloomers and in March 2007 I found two peduncles in my plant... Since then it has bloomed more or less all the time, so I would definately agree that 'Noelle' is both an easy and willing bloomer!
Due to lack of space I planted two rather large cuttings of 'Joy' and 'Noelle' together and they don't seem to mind it and they bloom now and then so I'll keep them together in the same pot.
To view any of the pictures on this page bigger, click on them and they will open up in new windows.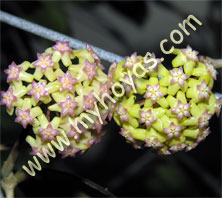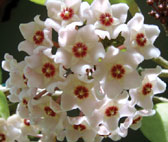 Read about how it all started
Why did I start collecting hoyas?

Private hoya links
Check out some of my favourite private hoya links from all over the world

Public hoya links
Here you will find public sites from all over the world, places to buy hoyas from etc.

Hoya forums
Here you will find links to different hoya forums on the internet.

Other great links
Here you will find links to search sites, garden sites, fun sites, crazy sites, and other "useful" sites.