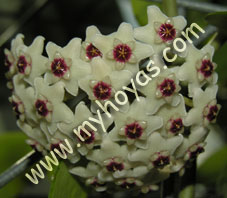 This hoya is a cross between Hoya obovata and Hoya carnosa and it originates from Eva-Karin Wiberg. She had seeds in Hoya obovata and this is one of the seedlings. Does anyone know if she saved any other seedlings or "just" this one? It would be interesting to know if all cuttings of this hoya originates from the same seedling.
This is definately not a fast growing hoya, but give it several years and perhaps you'll have a fairly large plant. It an easy to grow hoya since it doesn't demand much. The leaves show clearly who the parents are! It has the lovely dark spotted leaves from obovata, but they are not as round as obovata, but more elongated as carnosa. The leaves are 6-10 cm long and 4-8 cm wide and more or less covered in spots. Lovely foliage if it's not grown in too much sun. A shaded spot is recommended.
The flowers are really nice and it's easy to see who the parents are. The flowers look mostly like carnosa, but the corona is darker and the flowers are not as flat as carnosa, but more recurved like obovata. The flowers are almost 2 cm when flat, produce lots of nectar and have a weak mostly like carnosa fragrance. Each umbel has 20-25 flowers and I had heard they would last up to three weeks, but mine started wilting after two weeks.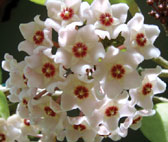 Read about how it all started
Why did I start collecting hoyas?

Private hoya links
Check out some of my favourite private hoya links from all over the world

Public hoya links
Here you will find public sites from all over the world, places to buy hoyas from etc.

Hoya forums
Here you will find links to different hoya forums on the internet.

Other great links
Here you will find links to search sites, garden sites, fun sites, crazy sites, and other "useful" sites.