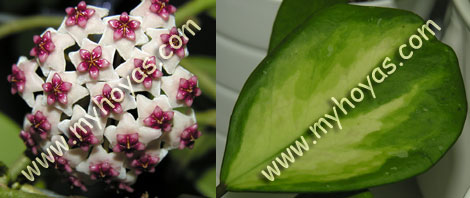 This hoya comes from Indonesia and it was described in 1844.
This is a fast growing, easy to grow hoya that flowers willingly and relatively early. Sometimes already as a cutting! The leaves are almost round, dark green with lots of silver flecks. The leaves can get pink flecks when grown in a very bright window. The size of the leaves can be anything from about 6 to 10 cm in diameter.
There is also a variegated variety of this hoya and it has absolutely gorgeous leaves. The variegation is pink when the leaves are young and the variegation on this hoya also seems stable. The leaf size is about the same as for the "green" one.
The flowers are light pink with darker pink coronas. They are reflexed, about 1.5 cm and produce some nectar. Some say the fragrance is like roses, but I find it more on the sweet side. Each umbel has 20-25 flowers and they last almost two weeks.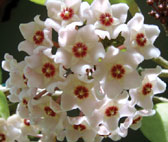 Read about how it all started
Why did I start collecting hoyas?

Private hoya links
Check out some of my favourite private hoya links from all over the world

Public hoya links
Here you will find public sites from all over the world, places to buy hoyas from etc.

Hoya forums
Here you will find links to different hoya forums on the internet.

Other great links
Here you will find links to search sites, garden sites, fun sites, crazy sites, and other "useful" sites.