I bought this hoya as a rooted cutting in August 1998 and the full name of it was Hoya obscura longipedunculata (don't know if it's a valid name or not). It was one of the first hoya cuttings that I bought and the lady I bought it from told me it was a fast grower and a fast bloomer. Just what a newbie needs! And she was right... It was soon a nice big plant and it flowered for the first time in January 2000. After this it has flowered a lot, sometimes ever during the winter.
I've experimented a little with this hoya. The mother plant is in an eastern window and gets lots of sunshine. The leaves on this plant are light green with some hints of red. I took a cutting from it (I think it was right after we moved into our house in August 2002) and I placed this cutting so that it didn't get any sunlight at all. This plant has grown quite big and the leaves are darker green and a little bigger than those on the sunny plant. I find the shady plant to be prettier, but it hasn't flowered yet and I doubt it ever will...
To view any of the pictures on this page bigger, click on them and they will open up in new windows.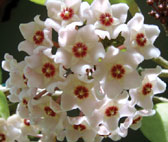 Read about how it all started
Why did I start collecting hoyas?

Private hoya links
Check out some of my favourite private hoya links from all over the world

Public hoya links
Here you will find public sites from all over the world, places to buy hoyas from etc.

Hoya forums
Here you will find links to different hoya forums on the internet.

Other great links
Here you will find links to search sites, garden sites, fun sites, crazy sites, and other "useful" sites.