I got this hoya in a trade I did in April 2005. It has been close to being kicked out several times, but in the end I'm always curious to find out what the flowers will look like. Well, I know that now, but only from photos. For several years this hoya grew very slowly, but the past two summers (2014-2015) it has doubled in size and is now getting to be a fairly large plant... however, it should really be huge considering that it is more than 10 years old! I will get it in bloom and then we'll see if I sell it or not. It is said to be the same cross as Hoya naumannii and naumannii blooms a lot here so if it comes down to chosing between them - the choise will be easy. However, the 'Pinkie' does have nicer leaves than the naumannii... so the choise might not be that easy.
To view any of the pictures on this page bigger, click on them and they will open up in new windows.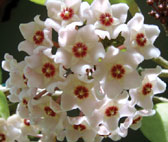 Read about how it all started
Why did I start collecting hoyas?

Private hoya links
Check out some of my favourite private hoya links from all over the world

Public hoya links
Here you will find public sites from all over the world, places to buy hoyas from etc.

Hoya forums
Here you will find links to different hoya forums on the internet.

Other great links
Here you will find links to search sites, garden sites, fun sites, crazy sites, and other "useful" sites.