I bought this hoya as a large rooted cutting at a Hoya exhibition in October 1999. It turned out to grow like a weed! But grow was all it did for quite some time, but I didn't mind. This hoya gets beautiful red leaves in the sun and this is a hoya worth growing just for the foliage. It flowered for the first time in July 2002, but after that it has not shown the least signs of wanting to bloom...

The leaves on this plant are dark green and lighter green underneath, 8-11 cm long and 3-6 cm wide. The surface of the leaves is smooth and rather shiny when young. The veins are lighter and visible, especially on the leaves that have a red hint. Lovely foliage!

The flowers are sort of "dirty" yellow, the corona is white with a yellow center. They are about 1 cm and have a very strong nice fragrance. That's all I remember about the fragrance! It flowered around the time when we were moving into our house and I remember enjoying the fragrance very much the last nights in my "old" bedroom, but I don't remember what the fragrance was like... I think the flowers lasted almost a week.

My plant had gotten too big last summer so I decided to cut it down and I ended up saving only a couple of longer cuttings. These rooted fast and this is truely a fast growing hoya. It's getting rather big again... Perhaps some flowers in the spring...?!!

To get back to Hoya pottsii, click here:

To view any of the pictures on this page bigger, click on them and they will open up in new windows.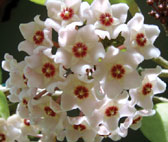 Read about how it all started
Why did I start collecting hoyas?

Private hoya links
Check out some of my favourite private hoya links from all over the world

Public hoya links
Here you will find public sites from all over the world, places to buy hoyas from etc.

Hoya forums
Here you will find links to different hoya forums on the internet.

Other great links
Here you will find links to search sites, garden sites, fun sites, crazy sites, and other "useful" sites.