My first cutting I got from Hawaii in October 2005 and it rooted weill and even started growing, but then it was just down hill... it grew a liitle, the leaves got soft, I cut it down and rooted a new cutting. och den rotade sig fint och började till och med växa, men sen var det mest nerförbacke... den växte lite, bladen skrumpnade, jag klippte ner den och rotade om den. Så höll jag på ett bra tag innan jag till slut tröttnade på den och lät den dö. Jag ville så gärna se de vackra helt vita blommorna och uppleva om den verkligen doftar så underbart som det sägs, men det skulle dröja hela fem år innan jag ens köpte en ny liten planta i oktober 2010. Denna plantan har mycket längre blad och växer visserligen inte så väldigt fort, men den behöver i alla fall inte rotas om för jämnan!

To view any of the pictures on this page bigger, click on them and they will open up in new windows.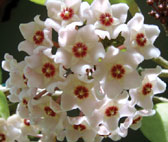 Read about how it all started
Why did I start collecting hoyas?

Private hoya links
Check out some of my favourite private hoya links from all over the world

Public hoya links
Here you will find public sites from all over the world, places to buy hoyas from etc.

Hoya forums
Here you will find links to different hoya forums on the internet.

Other great links
Here you will find links to search sites, garden sites, fun sites, crazy sites, and other "useful" sites.