I got this hoya as a bonus in a trade I made in May 2006. It was a generous cutting which I cut in three pieces and potted directly in soil. I had no hanging spots free so it had to stay in my cutting department for a while longer... A few months later we widened the window boards upstairs and more hooks were put up. The little plant was hung in half shade in a west window and it thrived! It grew really fast and the first flowers showed up in October 2007. After that it bloomed more or less constantly.
We sold the house and I moved to an apartment in June 2008. I had to sell more than 100 of my hoyas and this one was among those, but nobody seemed to want it so it went along in the move. I hung it on my hat rack in my small hallway and it stayed there about three months before I had my windows organized. This hoya (+ a few more) was not top priority and got stuck hanging in the hallway, which might sound a bit harsh, but the truth is it actually bloomed in spite of the dark place. Eventually I hung it in a west window and it bloomed - A LOT!
Then a new man came into my life and it resulted in yet another move, in November 2009. This time it was to a house with lots of hoya friendly windows, but before all the hooks were up this hoya was hung (temporarily...) next to our patio door in the shade. Under the plant the cat had it's scratching furniture and on top of that there were always dead yellow flowers... Unfortunately it ended bad for this hoya when the cat had a little accident with it and there were potsherds, dirt and clay pebbles just about everywhere in the dining area. The plant was totally ruined as he also seemed to have chewed on it! It was just to clean up and save what could be saved: quite a few short cuttings which were all potted late in the fall of 2010.
I hung my plant in a sunny eastern window and at first I didn't know if that was a good spot or not, but in the spring sunshine it started growing a lot and fast. The vines are quite long again and they have branched out some. It has even bloomed once. Only with 3 flowers, but at least I got to sniff them again... Even though both me and my cat have "abused" this hoya, deap down I like it and wouldn't mind seeing lots of flowers again on this easy and bloom willing hoya. Today I'm glad nobody wanted it when I didn't want it!
To view any of the pictures on this page bigger, click on them and they will open up in new windows.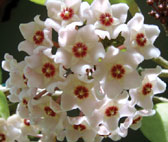 Read about how it all started
Why did I start collecting hoyas?

Private hoya links
Check out some of my favourite private hoya links from all over the world

Public hoya links
Here you will find public sites from all over the world, places to buy hoyas from etc.

Hoya forums
Here you will find links to different hoya forums on the internet.

Other great links
Here you will find links to search sites, garden sites, fun sites, crazy sites, and other "useful" sites.