I bought this hoya as a rooted cutting in August 1998. The lady I bought it from called it Hoya sp. Bogor, but a couple of years ago I was told that this one should be called Hoya verticillata. It seems it's also called pallida, but the correct name is Hoya verticillata. Lately I've read information which says this hoya should be Hoya amoena because the flowers doesn't don't seem exactly right compared to those of Hoya verticillata... However, until more information shows up I'll leave it the way it is.

This is an absolutely beautiful hoya with leaves 7-13 cm long and 2.5-4 cm wide. The leaves vary in light green to darker green with very prominent veins and a lot of flecks. The foliage is lovely!

My plant flowered for the first time three years after I got it, in August 2001, and they were worth waiting for! The flowers on this one are mostly pale pink with white coronas, but sometimes the corolla lobes are pale brown with white coronas. These flowers produce a lot of nectar and the fragrance is anything but spicy. It's more like chewing gum (Stimorol if you wonder!) sort of minty and fruity at the same time... It doesn't flower very often, but a couple of times a year is enough when you have to clean up all that sticky nectar!

At one time I passed the plant when the buds were opening up and I could hear a faint popping sound each time a bud opened and I took the opportunity to film it with my digital camera. The "movie" is only two minutes long and not of the best quality since I held the camera the whole time, but it's still fun to have on film!

To view any of the pictures on this page bigger, click on them and they will open up in new windows.

To get back to Hoya verticillata, click here: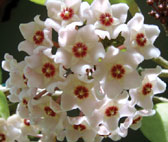 Read about how it all started
Why did I start collecting hoyas?

Private hoya links
Check out some of my favourite private hoya links from all over the world

Public hoya links
Here you will find public sites from all over the world, places to buy hoyas from etc.

Hoya forums
Here you will find links to different hoya forums on the internet.

Other great links
Here you will find links to search sites, garden sites, fun sites, crazy sites, and other "useful" sites.