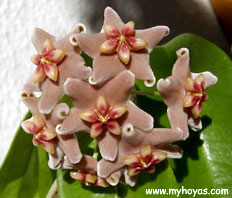 This hoya comes from the Fiji Islands and it was described in 1915.
It's a twining hoya that doesn't get big fast and it's easy to control around a support. The leaves are thin, plain green, about 8-11 cm long and 3-4 cm wide. The thin leaves tell you that this is a sensitive hoya, but if it's kept evenly moist it should be no problem.
The flowers are really something extra! The colour could closest be described as greypurple and the flowers are flat, very fuzzy, about 1.5 cm and the tips of the corolla lobes are curled back and sideways... The corona is pale yellow with a red center and together with the greypurple corolla this makes a beautiful hoya. Each umbel has 10-20 flowers. The flowers last about 10 days, produce no nectar and have a vague undescribable fragrance if you stick your nose into it.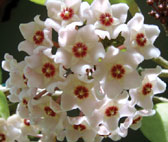 Read about how it all started
Why did I start collecting hoyas?

Private hoya links
Check out some of my favourite private hoya links from all over the world

Public hoya links
Here you will find public sites from all over the world, places to buy hoyas from etc.

Hoya forums
Here you will find links to different hoya forums on the internet.

Other great links
Here you will find links to search sites, garden sites, fun sites, crazy sites, and other "useful" sites.